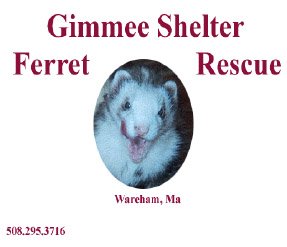 A number of events are coming up that should be fun for all. Check out the Maff website for fun things to do!

FOSTER PARENTS NEEDED! We need permanent foster parents. Please call for more info!
Email: dejesusjan@attbi.net
---
Think Spring Frolic !!!!!!
---
Shelter Helper Hall of Fame!
_______________________________________________________
Thanks to everyone who adopted a ferret in the past year, especially the people that did not have to have a "perfect" ferret. You helped us to continue on and save more lives! Here are the "children" currently up for adoption at our shelter:
Ferret Adoption - a healthy, cute (aren't they all) ferret that just needs a loving home.
Ferret Fostering -A ferret that requires some extra loving care. They may need medication or special care. They will need a ferret knowledgeable foster parent with extra time and love to give.

Good informational Ferret Links: